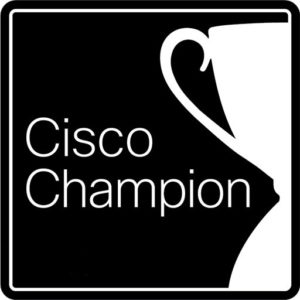 Late last week I received an e-mail saying that I had been accepted to the 2019 Cisco Champions Program. This is the third time that I have been a part of this program and I'll be honest, I was not really expecting to make it in this time, but more on that later. First, let's talk about what the program is.
Who Are the Cisco Champions?
If you were to gloss it over, you could say that Cisco Champions is an evangelist program, and while there is some truth to that statement, there is a lot more under the covers. The goal of the program is to take people that are heavily involved with Cisco technologies that have blogs or social media presence and give them tools to get better at what they do. In this case, "what they do" could just be increasing their Cisco knowledge for day jobs, but it could also be teaching them about how to better run their blog or social media accounts, it could be a WebEx to help you gain leadership skills.
In the end, the program exists to help members grow with the hopes that you will talk more about Cisco technologies and use your newfound knowledge to help expand the audience of that message. That being said, there isn't a specific requirement that you have to write specific views about Cisco all the time, in fact their Champions FAQ page says that they are looking for folks that express a "balanced view of Cisco". I've never been asked to change what I wrote about something while in the program, in fact sometimes if I had something critical that I said it was bubbled up through the program and I got some good feedback or questions about how Cisco could make it better. All that to say, while you could call it an evangelist program I've never really thought of it that way because of all the Cisco folks running it.
Why Wasn't I Expecting to be Included?
If you have read the recent posts in this blog, you probably already know that I recently switched jobs and my new job doesn't really deal with Cisco at all. Because of that, I wasn't really sure that I would be added to the program, but I suppose that they looked at what I've written in the past, my Engineering Deathmatch show and soon to be released IT Inquisition shows and determined that I was still a fit. Nonetheless, it was still a bit of a surprise when I saw the e-mail come through.
So Why am I Glad to be a Part?
I'm glad to be a part of the program this year, perhaps more so than other years. While I am already super overwhelmed with the learning that I need to get done in my new job, I also want to keep abreast of the changes of where I came from. Cisco Champions gives me the opportunities to get briefings of what is about to come out from Cisco as well as continue to get ideas for content for this blog, because as I have said before, I fully intend to keep writing technology articles that aren't focused on my day job here on this blog.